Jennifer S. Grozalis, DC
Dr. Jennifer Grozalis is a board certified Chiropractor who is passionate about helping and healing athletes and active people quickly and efficiently. She also specializes in difficult to treat cases that have not responded to traditional physical therapy or chiropractic.
Dr Grozalis's 16 years of professional experience gives her the ability to diagnose and treat a very wide range of injuries and conditions for athletes and non-athletes alike. She has had extensive training in soft tissue therapies such as Active Release Techniques® (ART®) and Neuromuscular Reeducation. She is full body certified in ART® Soft Tissue Management System, and is also certified in nerve entrapments and the ART Masters Course®.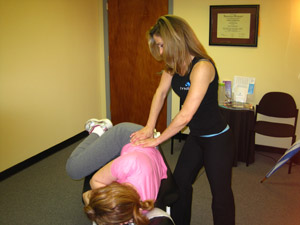 She is the only doctor in this area who integrates the ART® techniques with exercises and stretches on the reformer, ladder barrel and chair to release scar tissue and increase range of motion. Her continuing education in pilates rehabilitation allows her to assess and treat all types of injuries through these techniques. For more information on Active Release Technique you can visit http://www.activerelease.com/.
Dr. Grozalis is certified in Graston Technique®,  which is instrument-assisted soft tissue mobilization that enables her to effectively detect and treat scar tissue and restrictions that affect normal function. The technique is also being used by NBA, NHL, NFL and Major League Baseball trainers. See their web site for more information http://www.grastontechnique.com/
She is also one of the few doctors in this area who is certified in full body Kinesio Taping. Kinesio tape gives support and stability to your joints and muscles while allowing a patient to move through a normal range of motion. It decreases inflammation and reduces pain.The Kinesio Taping Method is applied over muscles to reduce pain and inflammation, relax overused tired muscles, and to support muscles in movement on a 24hr/day basis. It is non-restrictive type of taping which allows for full range of motion. In contrast, traditional sports' taping is wrapped around a joint strictly for stabilization and support during a sporting event obstructing the flow of bodily fluids as an UNDESIRABLE side-effect.
Dr Jennifer Grozalis is one of the only doctors in this area to be certified in full body kinesiotaping. Call our office for a consultation or more information. You can find more information on Kinesiotaping at http://www.kinesiotaping.com/.